Shopping Malls | Retail, Global
Client:
Shopping Malls & Retail
Contractor:
Avon Barrier
Understanding the threat
On busy Saturday lunchtime in 2013, the Westgate shopping centre in Nairobi Kenya was stormed by gunmen, the shopping centre was packed with shoppers, the siege lasted until 3 days and 61 civilians and six security officers lost their lives.
Recent reports claim that terrorists have called for jihadist attacks on London & European shopping centres; shopping malls worldwide have needed to look closely at their security arrangements and implement additional security procedures.
Our approach
Typically shopping centres are nestled in the hearts of busy cities and towns or out of town in large retail parks.  Both face physical security challenges and management are tasked, where possible, to reduce the risk of the effects of a potential aggressive attack.
Identify the threats
Decide what needs protecting and identify vulnerabilities
Identify measures to reduce risk
Review your security measures and drills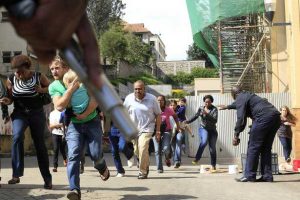 One of the potential risks they face is a vehicle being used to attack the physical structure of the building; the vehicle could be packed with explosives, if the structure is compromised then this could have a devastating effect.
Having identified this risk, they need to identify the buildings vulnerabilities, for example, the service areas, the perimeter of the building, the walkways and pedestrian entrances.
Physical security measures can put in place that can protect these areas whilst still retaining the welcome face that encourage shoppers, but not alerting them to the measures or the potential threat.
Our solution
When shopping malls are being planned or constructed, Avon Barrier will work in conjunction with architects and consultants to provide products that can assist in counter terrorism measures.
Static bollards are a recommended choice for shopping centres. A perimeter of bollards provides a blast stand-off distance in the event of an explosion alongside the building and prevents vehicles from driving into the structure or walkways. Bollards can be unobtrusive and fitted with a range of sleeves to create an unaggressive appearance but providing vital protection.
Rising automatic or removable bollards are recommended to use in conjunction with a static line of bollards to provide emergency or service vehicle access.
Installation of any security equipment in a public area is challenging when trying to maintain the customer environment; the Avon Resilience SSF100 bollard has a super shallow foundation depth of just 100mm, one of the shallowest bollard foundation depths in the world. A benefit to using this product is where foundation depths are limited and minimal disruption is an essential.