Avon Barrier – Security Essen 2018 (25-28 September 2018)
We will be exhibiting at Security Essen in Germany this year, our first time exhibiting at Europe's number 1 Security Trade Fair.  You can find us in Hall 3 Booth 3C128, where we will be available to demonstrate our options for physical protection of critical infrastructure and crowded spaces.
We will be showcasing our range of high security active & static bollards, gates, barriers & road blockers, all have been crash-tested to internationally recognised standards including IWA14-1, PAS 68 & ASTM F2656.
They are specifically designed to protect from terrorist and hostile vehicle attacks such as a Vehicle Borne Improvised Explosive Device (VBIED) attack or where a Vehicle is used as a Weapon (VAW), Europe has recently seen an increase of this type of hostile vehicle attack.
Latest developments include our super shallow foundation bollard,  the Avon Resilience SSF100 Bollard with just a 100mm structural foundation depth, it is one of the shallowest crash tested bollards available, providing a high level of security and protection with the reassurance of being independently crash tested to the IWA 14-1 classification, stopping a 7200kg truck travelling at 64kph.
A uniquely versatile fixed bollard system in its design, the modular system can be tailored to suit a number of bollard arrangements, including inclines or slopes, curves and changes in direction of the row of bollards.  A seamless solution, with the relief of not having to excavate a large foundation, saving in the overall expense & disruption that deep foundation solutions can present.
The SSF100 Bollard is ideally suited to protect city centres or busy public areas, such as stadiums, rail & airport terminals, large retail areas and in particular where utilities, subways or underground services are situated below the walkway or road surface.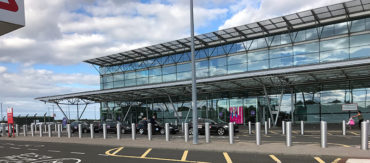 Avon Barrier have a long list of clients worldwide, exporting to over 70 countries and are looking to meet with consultants, specifiers, contractors & integrators that work within the sectors that provide expertise in security & protection of infrastructure.
We are also expanding our reseller network within Europe and are looking for suitable partners to sell and support our systems, so please come and speak to us if you would like to discuss this with us.
For further information please visit Security Essen
We hope to see you there.